WHAT WE DO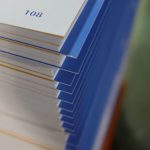 Collating & Binding
We are equipped with saddle stitching, wire coil, and plastic comb binding equipment. If you have a book, booklet, or magazine that needs to be stitched, stapled, and gathered, we can assist you in putting your project together.
Forms & Flyers
Our highly experienced graphic design team can assist you in flyers, driver logs, vehicle inspection reports, invitations, or full-color brochures to programs and multi-page documents, and more.
Graphic Design
We produce professional quality multi-part business forms such as: invoices, statements, vehicle inspection reports, driver log forms, service forms, work order forms, safety booklets, and more.
Color Chart
Pantone color is a standardized system, utilizing a numbering system for identifying colors. By standardizing the colors, different manufacturers in different locations can all reference a uniform numbered color, making sure colors match. Colors on computer screens may vary based on the graphics card and monitor used in your system. Do not rely on this as your only method for final color selection. Varied paper stock will also affect shading differences. Come by in person and we'll be happy to assist you in getting that "just right" color for all your printing needs.